Our communities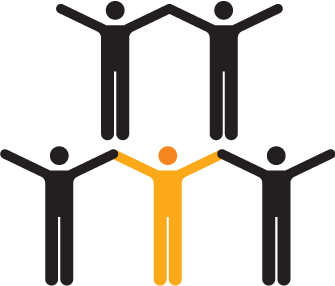 Our company purpose is to help people of all ages to progress through their lives through learning. This is both a social purpose and our core business. Our commercial success provides the investment capacity for us to continue to innovate and expand into new geographic markets and new kinds of learning.
---
We recognise that not-for-profit partners can help us extend our reach and impact in ways that have a real impact on learning - especially for the most disadvantaged - and are complementary to our business objectives. We also believe that our stakeholders expect and value our efforts to work in partnership with charitable organisations.
We therefore partner and fund a number of charitable organisations and the Pearson Foundation is the largest of these. In 2011 our worldwide charitable giving was £11.5 million or 1.2% of pre-tax profits.
Community spend
Our 2011 community investment is lower than in 2010 reflecting that some of the 2011 projects undertaken by the Pearson Foundation were funded in 2010. In addition, Pearson volunteers donate time and Pearson has people in the business dedicated to managing our community partnerships. We do not include these contributions in our community spend figure.
Community spend -
£m

(% of operating profit)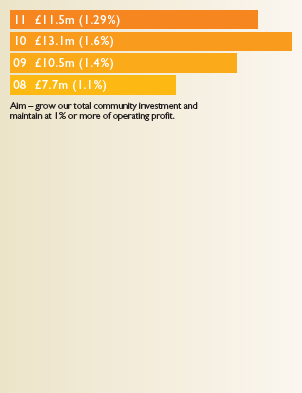 Community investment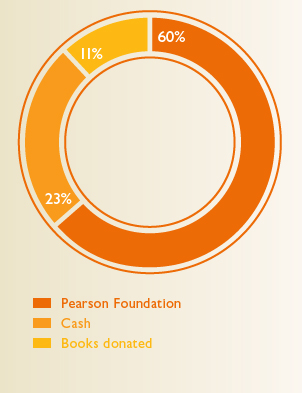 Charitable giving by the Pearson Foundation
The Pearson Foundation plays an important and special role in furthering our charitable objectives.
By establishing the Pearson Foundation as an independent charity, we sent a clear message to partners that we are serious about our desire to make a sustained investment and intervention in improving learning. The Pearson Foundation sets out its priorities for partnership with other charities as well as provides a means to raise additional funds for charitable purposes from other organisations.
The Pearson Foundation plays an important role for Pearson. It is our preferred charity partner and has a remit within Pearson to look to unlock company assets - cash, products and services and employee time - for charitable purposes, particularly to benefit organisations and individuals who would not otherwise be able to access them.
We are proud of what the Pearson Foundation has achieved and will continue to support its mission to innovate around new models for learning. It plays an invaluable role to explore, demonstrate, and influence the future shape of statutory and commercial provision.
Case study: Pearson Foundation
The Pearson Foundation is an independent charity that aims to make a difference by promoting literacy, learning, and great teaching. Pearson is its major (but not its only) funder. The Foundation runs a wide range of innovative philanthropic programmes in the US and around the world, designed to encourage people to read, to support great teachers and to share insights into best practice in education. In 2011, the Foundation was honoured to be awarded the NEA Foundation Award for Philanthropy in Public Education.
Still, it was a challenging year for the Pearson Foundation as several media reports criticised some of its programmes. Mark Nieker, the President/CEO of the Pearson Foundation, has rejected the allegations and his response can be viewed at http://pearsonfoundation.org/about-us/statement.html
As the largest funder of the activities of the Pearson Foundation, Pearson has made clear our continued and ongoing commitment to support and fund the valuable work of the charity.
Case study: OECD
Developed in partnership with the Organisation for Economic Co-operation and Development (OECD), "Strong Performers and Successful Reformers in Education" is an investigative video series documenting policies and programmes that local education leaders credit with improving student achievement - success demonstrated by the strong performance of their countries in the latest assessment from the Programme for International Student Assessment (PISA).
Case study: Early learning development
The Pearson Foundation continued to develop and expand their innovative early-childhood professional development programme focusing on partnering local education bodies to deliver training in literacy, numeracy and childhood development for teachers in Kenya, Nigeria, South Africa as well as Tanzania.
Case study: Sprout/Prize for social innovation
Available worldwide, the Sprout E-course helps young people imagine, plan, and develop effective and scalable social innovation projects. Since its release in 2008, the Sprout E-course has given young people from more than forty countries access to training in essential skills, including team building, project management, communications, and the ability to leverage technology.
Case study: The Pearson Foundation Million Voice Project
My Voice™ is an innovative way to engage all members of the school community in a student-centred dialogue about their school's culture. Through asking students, staff, and parents about their school, analysing their responses, and acting on them, My Voice aims to help students reach their fullest potential. The Pearson Foundation brings together the perceptions of young people to provide educators with detailed student data that can be used to improve teaching and learning. The Pearson Foundation provides participating schools, school districts, and organisations worldwide with access to the My Voice™ Aspirations Survey for grades 6 through 12 (US) and years 7 through 13 (UK), as well as resources including implementation support, school-level reporting, and the tools necessary to interpret the report data. http://myvoice.pearsonfoundation.org/
Pearson people: giving time and money
Each business group has its own community budget which is often used to match the fundraising of our people, to support local charities and make donations to non-profit groups involved in learning and literacy. Alongside charitable donations and sponsorship, Pearson businesses partner with NGOs to highlight particular local causes or international concerns.
We support our people in their own community involvement, matching their fundraising and providing volunteering opportunities in work time. We celebrate our Pearson volunteers by inviting anyone in the company to apply for the annual Pearson Community Awards, with a US$2,000 prize for up to seven recipients to donate on Pearson's behalf to their charity of choice, in addition to a US$500 'thank you' to the volunteer.
Case study: Payroll giving
Pearson employees in the UK take part in our Give As You Earn scheme, donating money to charities of personal choice every month out of salary. Pearson plc matches these donations annually up to the value of £500 per person, totaling a £85,000 fund match in 2011 for nearly £100,000 given by our people.
In 2011, we reviewed how we market payroll giving and the opportunities we provide for people to join. During 2012, our new payroll giving partner will visit each of our buildings in the UK to explain the scheme. People can join online or through their mobile phone.
We have also started to explore how to implement a similar initiative in the largest part of our business Pearson North America.
Case study: Pearson Community Awards Zac Ludington, Regional teacher recruiter, Wall St English (China)
Zac first heard about BEAN while studying Mandarin Chinese. He was initially involved in small weekly events, teaching English to poor students in Shanghai. BEAN supports a range of groups, providing English lessons to the children of impoverished migrant workers and to disabled adults in Shanghai. Zac likes that he is able to also volunteer in an administrative capacity, leading his own events and helping to fundraise for the services BEAN provides. In December 2010, Zac was promoted to Vice President of Service, coordinating events and liaising with volunteers, working closely with the President of the Shanghai chapter to promote events and motivate volunteers. The work has given Zac a new perspective on life in China, in addition to a real sense of pride and satisfaction at being involved in giving back to his local community. He has also been able to get a considerable amount of leadership experience through the work, helping the team to expand the charity's events and volunteering opportunities. Winning the PCA will help give BEAN extra exposure, perhaps encouraging more people to join up as volunteers. The financial award will enable BEAN to make donations to their partner charities. Learn about BEAN's work here: http://shanghai.beanonline.org/
Plans
| | | 2012 plans |
| --- | --- | --- |
| Giving money | | Review company supported employee giving programmes in the UK and the US and to develop a new strategy. |
| Giving time | | Review our existing menu of volunteering opportunities and develop new ways to recognise and support our people when they volunteer in their local communities with a particular focus on libraries, schools and colleges. |
| Giving books | | We will set a target for book-gifting for the next three years. |
| Charitable policy | | To support the capacity of our businesses to become more effective in running charitable partnerships. |
| Strategy | | To review our approach to giving and how we decide on areas of priority. |